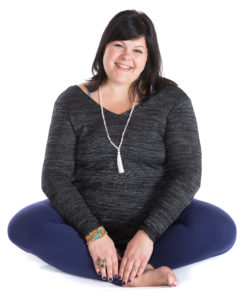 Who am I? I am Amanda, business owner, wellness professional, wife to an amazing husband and mama to three children under the age of 6.
I dove into the wellness world over 16 years ago when I started teaching my first AquaFitness class. From there I started teaching group fitness and personal training and started to look for something just for ME. Some sort of activity, class or place where I could escape. Relax. Quiet. Peacefullness. I tried my first yoga class at a fitness centre with a friend and I remember giggling through it. But something brought me back. And back again. I started practicing yoga more regularly and soon wanted to pair my love of working with children with my new found love for yoga. That is when our first ever Little Lotus Yoga class was created. It all started in Ottawa with a single weekly preschool class and before I knew it we were offering Little Lotus classes all across Ottawa.
Then I got pregnant with my first child. My pregnancy kicked my butt with illnesses and hyperemesis. I knew that if I stayed with my breath and trusted my body that I would be okay. Labour and delivery with my first child completely rocked my world. I had never felt so connected with my body and my breath. I credit it to my strong yoga practice and strong mind-body focus. I delivered my baby boy into a room full of love and peace. My yoga practice helped me.
I wanted to help others do the same. I wanted to create a class where all pregnant women felt welcomed, no matter their experience, and we could come together to build community and support. We started offer Prenatal and Postnatal yoga classes as part of our offerings and I am so thankful for all the amazing women and families we meet in our programs.
Our Little Lotus Yoga Teacher Training programs are a combination of my experience and love teaching these specialized populations and that of so many of our wonderful teachers. We offer advanced specialized training that will truly give you the tools you need to succeed.
My three beautiful children are also my teachers. Continually reminding me to stay playful, curious and loving.